Entering Parsons High School's varsity football locker room now, one might believe, apart from its overall smaller size, that it was designed for college or pro ball players, rather than secondary level athletes.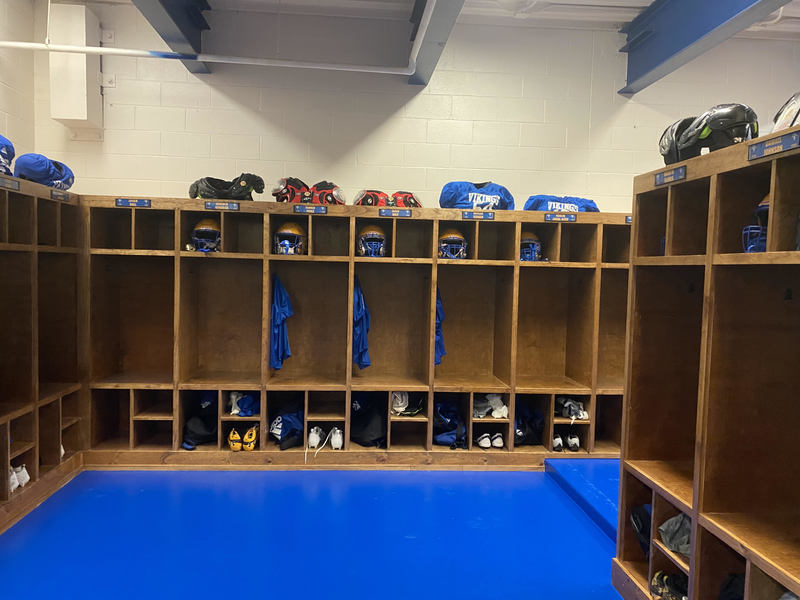 Gone are the blue metal lockers and plain wooden benches sitting in front of them that are common in most high schools and many colleges. In their place are custom, hand-made, athletic wood lockers. Each player's area has sides, back, a seat, and upper and lower shelves, in addition to a name plate. The worn concrete floor is now blue, and the walls above the lockers are freshly painted awaiting the arrival of official emblems/logos, signage and vinyl wording to further inspire the players entering there. In addition, as one first enters, there will be a wall featuring all the past Shrine Bowl players who played high school football for Parsons. Another wall will feature all the NCAA Division I players that came from Parsons High School and played football on Division I teams.
The remodel was done over an eight-month period, mostly by head football coach Jeff Schibi. He has been coaching for six years and is entering his fourth year as head coach at PHS.
"The former locker room was built for PE and was crowded and not really designed and built with football in mind," PHS Principal Rob Barcus said. "He wanted the locker room to be more spacious and accommodating."
"Every year I try to do something in the off season to improve whatever it is, whether it is our program or the facilities," Schibi said. "We spend a lot of time in the locker room, and I felt like it was very congested in here. And the room (in the back) was cut off, so it was not ideal for a coach to supervise. So, I came up with an idea.
"Outside of the congestion and supervision, we just wanted the kids to have a nice place they could be proud of and have some space themselves. Overall, my philosophy of the way I coach and do things is, I want to treat the kids how I would like to be treated back then. I always loved nice facilities in high school or college, whenever we would travel places. I really enjoyed that as a player and appreciated it, and I know the kids will appreciate it here as well."
He researched some designs, got an idea in his head of what he wanted and met with the principal, assistant principal/athletic director and Superintendent Lori Ray to share his vision.
Schibi was thankful for them trusting him to do a good job.
"They could have just said, "No. We'll hire a professional later on,' but they trusted in me. I made them aware no money would be used by USD 503. No taxpayer money or anything like that," Schibi said.
A private donation and a $5,000 grant from the Parsons Area Community Foundation are what funded the project. Beginning in December 2022, after the season ended, he and the custodial staff went to work tearing out the old lockers, and then he went to work building. There were people who offered to help him with the labor, however, physical labor is something he doesn't like asking people to do, knowing their time is precious. Besides, he said, the crazy hours he was working on the project would not likely coordinate with most people's schedules.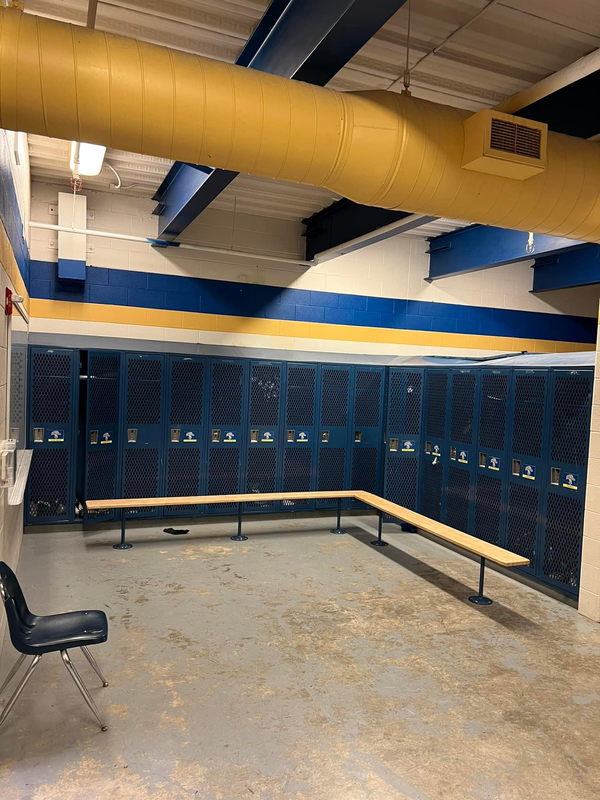 "I had a full-time job, so my schedule was all over the place. I would come in here at very, very random times and do a little bit of work," he said.
"He spent days, weekends, nights, basically any free time he had working on the building of the space," Barcus said.
He lost one week, as he got sick when working on the project from breathing all the sawdust put out from the table saw. After a week down, his wife bought him a high dollar mask to protect him while he finished the project.
The wooden lockers are built out of birch plywood and were stained and finished. Schibi's grandfather was a carpenter, though he passed before his skills could be passed to his grandson. Still, Schibi said, it is in his blood. His woodworking skills were learned from his father, David Schibi, his two older brothers, as well as hands-on application to hone his skills. As he got into the project a couple weeks, he realized it was going to be a long process.
"Once I started building the lockers, I built a template and made everything else the same after that. I would build each one individually. When I got done, I would set them into place, level them and bolt them into the wall.," he said. "I think the lockers got better as I went on." "My goal was to have it done by June," he said. "I went over that goal by a couple of months, but I ended up getting it done before football season starts."
In fact, he said, he hung the TV in the locker room the day before their first practice Aug. 14. "It actually turned out better than expected," he said. "We are proud of what this looks like, and what this can become."
He told the students what he was doing, as it would have been hard to keep it a surprise. He would randomly bring the students in to see the updates and progress, but they did not get to see the final product until the day before practice.
"They were pretty stoked and the assistant coaches were just as stoked as the players. They really enjoyed it. All of our assistant coaches played college athletics, so they know how awesome this is for a high school athlete to have a locker room that is nice," Schibi said.
When all the logos arrive, he said, he thinks that is really going to make the room.
"His devotion and commitment to our football program is amazing and I know his players appreciate it," Barcus said. "This was a total team effort between Coach Schibi and our custodial staff. The locker room looks amazing."