New football goal posts have been installed at Marvel Park Stadium thanks to Parsons USD 503 Head Football Coach Jeff Schibi and district maintenance staff.
There wasn't anything necessarily wrong with the old goal posts, Schibi said, but it was time for an update.
"These new ones are much larger (20-feet higher on the side posts), and they are also safer for athletes because they are extended off the goal line by 5-feet due to a gooseneck pole," he said. "Initially, the old goal posts were right there on the back of the goal line with a pad.
"You wouldn't think that a couple of goal posts would make a football field look so much better but these goal posts… it looks awesome. Much more official."
The goal posts weren't as much money as people might think, Schibi said. They were paid for out of the football budget, donations and money raised from the summer golf tournament.
"All in all, for the price, it was a much-needed upgrade," he said. "And we did all of the work ourselves." Installation of the posts was completed last week, after Schibi and the maintenance crew devoting numerous hours on evenings and weekends to digging out the old posts and installing the new ones.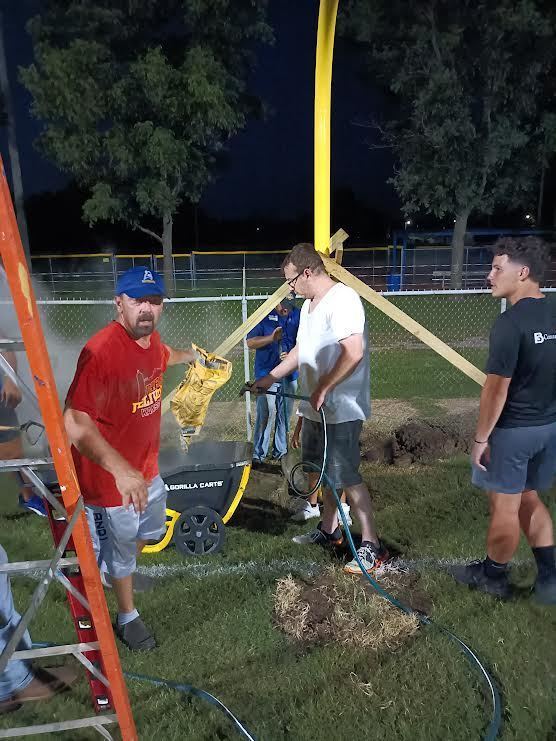 "All of us have full-time jobs so we were doing all of this after hours and on weekends. There were some nights we left Marvel Park at 11 p.m. That wasn't much fun when we had morning practice this week," Schibi said.
"I have to thank Eric Bortz, Kurt Forbes, Paxton Swanson, Lakaito Barr-Miller. They deserve a lot of credit. We spent lot of hours out there, just taking the old one out, digging new holes. The hardest part was leveling out that base to make sure not only are you deep enough for that pole, but also where your cross bar aligns with the field, that has to be spot on. It made it difficult because our field drops off considerably on the backside."
LaForge & Budd brought a tele handler down and helped them pull the old field goal posts and also unload the new field goal posts.
"I appreciate their donation of that as well… their time and their equipment," Schibi said.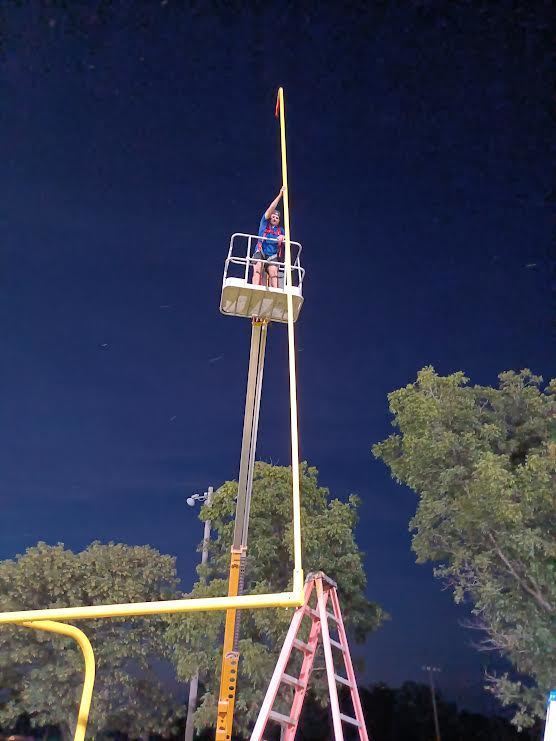 While maintenance helped, Bortz said the new goal posts wouldn't have happened without Schibi's commitment to make it happen.
"This was all Jeff Schibi. He is amazing," Bortz said. "He was responsible for everything. He's a football coach that kids dream of getting."
Should they ever need to move the goal posts to another field, Schibi said they could move them to another location.
"So that is a good deal," he said.